Technology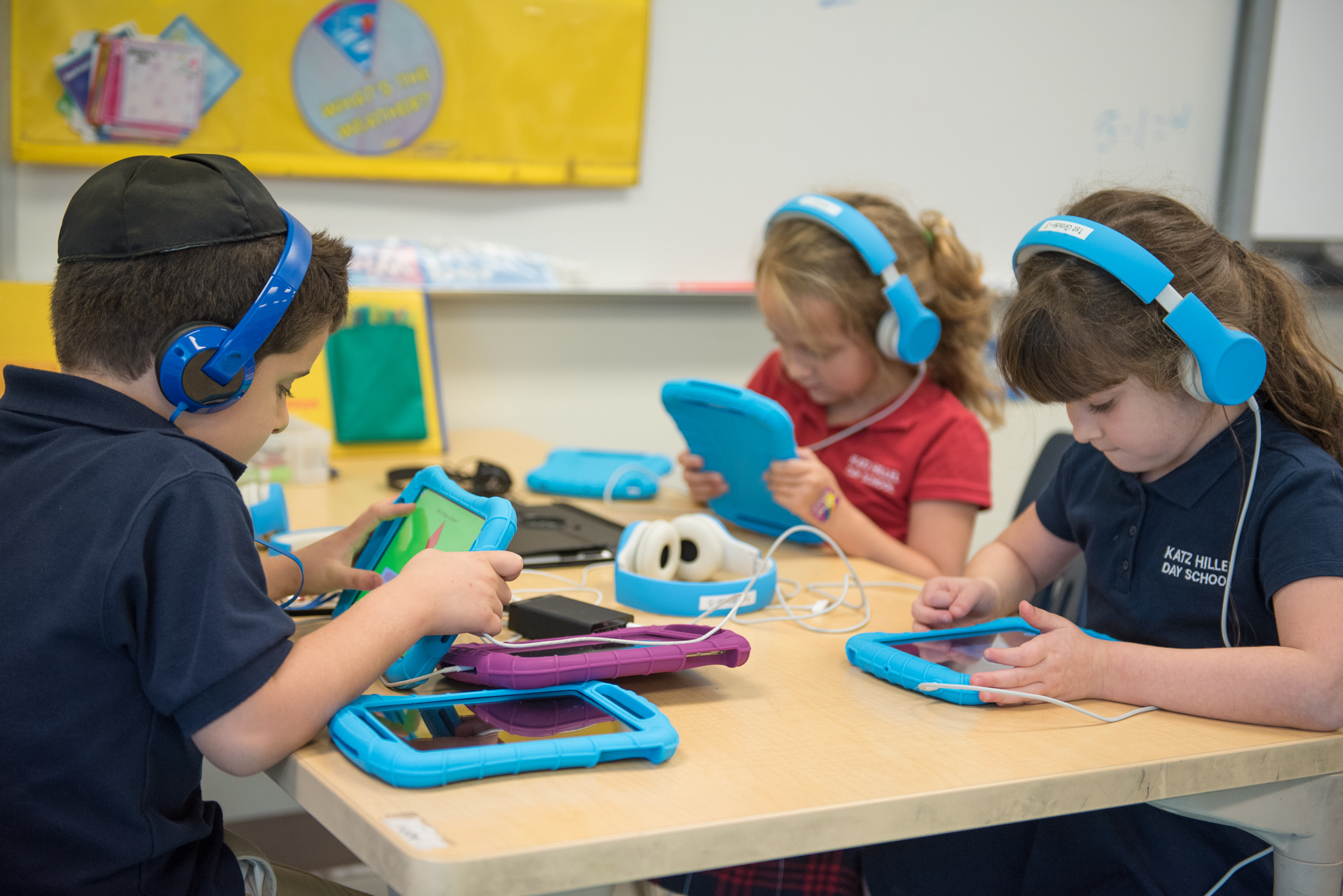 Technology Curriculum Overview
Katz Hillel Day School of Boca Raton has embraced technologically enhanced teaching programs, as it provides its students with a comprehensive 21st Century education in both Judaic and secular studies. The Katz campus is equipped with cutting edge technology that includes 36 Smart Boards, 150 iPads, portable laptops in the classrooms, a Google Chrome and Mac lab, and Wi-Fi access throughout the school that allows both teachers and students to utilize the latest IOS and Web 2.0 applications. Students at Katz Hillel Day School are provided with custom, Google email accounts with Katz Hillel's domain which allows them to explore a plethora of Google enhancements and provides them with the necessary tools to maximize learning. The technological learning environments at the Katz campus are created to foster communication and collaboration amongst peers and to help students develop global awareness by connecting across geographical borders. Internet safety is a top priority at Katz Hillel Day School. Students understand the importance of internet safety, ethics and proper etiquette.
The Classroom Experience
The Interactive White Board Technology enables teachers at Katz Hillel Day School to customize engaging lessons by incorporating interactive games and multisensory hands-on activities such as observing/dissecting a virtual frog. The students also have the opportunity to engage in quizzes and get immediate feedback from teachers through Smarttech's "Interactive Response System" or clickers.
The iPad is an ideal learning companion which continues to complement daily lessons both inside and outside the classroom by reinforcing skills and concepts that are presented to our students from early childhood through eighth grade.  In addition, it enables our educators to further differentiate instruction which has proven to enhance the students' capacity to learn.  The iPads are a ubiquitous learning tool, where students discover new information at their fingertips in various subject areas. Elementary students have the opportunity to enhance their understanding of Chumash by listening to audio lessons in online classrooms.  In middle school, the students delve deeper into our comprehensive Toshba program when utilizing the digital curriculum/textbooks on the iPads to learn about Talmud.
The Computer Lab
The Katz campus has two computer labs for grades K-8, providing our students the opportunity to learn about various platforms.  In the Mac Lab, students learn desktop publishing, graphic design, video editing applications, and coding. In the Chrome Book lab, it is a cloud-based learning environment. Students have access to online programs to enhance their knowledge with typing and word processing skills, movie making, presentations, animation, virtual worlds, augmented reality, and coding. Throughout the year, the students learn about the many Google features such as add-ons and extensions which assist them when completing classroom assignments and homework.  As part of the Computer Science curriculum, the students also learn basic coding skills such as functions, sequences, loops, and conditionals through interactive coding activities.  Students begin to strengthen their problem solving skills and become more familiar with programming languages such as Java Script and HTML
The students are highly engaged in learning when utilizing technology such as Web 2.0 tools and Google Chrome/ Apple applications both in the classroom and the computer labs. Katz Hillel Day School aspires to be at the forefront of technology.  Visual, auditory, and tactile technological tools will continue to assist our students in their journey as 21st Century learners and better prepare them for the future.