Technology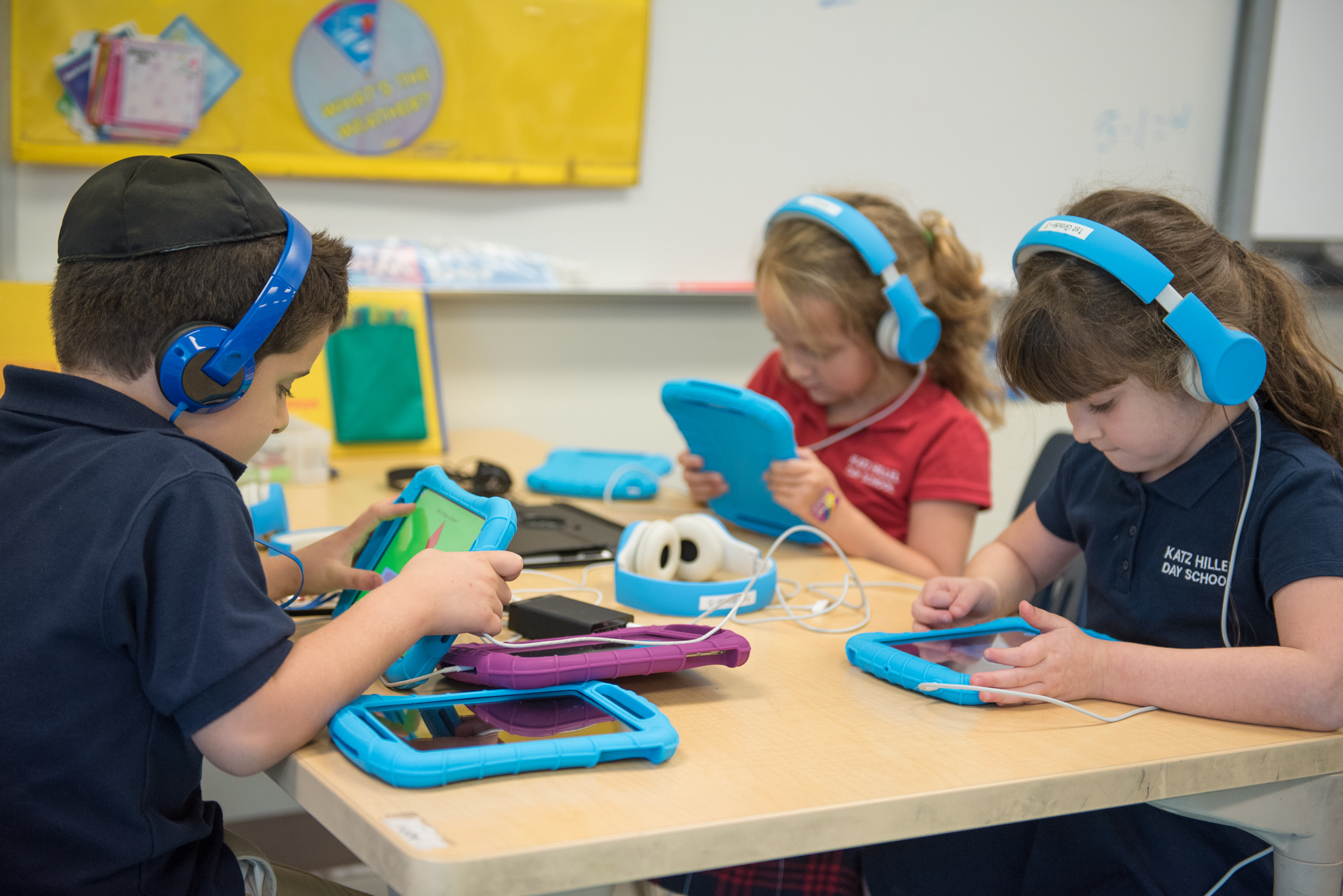 Technology Curriculum Overview
Katz Hillel Day School of Boca Raton has embraced technology to foster critical thinking used when there are problems to solve, ideas to evaluate or decisions to make. Technology supports our  programs, as it provides its students with a comprehensive 21st Century education, in both Judaic and secular studies. 
The Katz campus is equipped with cutting edge technology that includes 36 Interactive Promethean Boards, 1:1 chromebooks in 2nd through 8th grade classrooms , 50 iPads, a Lower School Robotics and Coding lab, and a state of the art Makerspace that includes 3D printing, laser printing, circuitry building, robotics, VR, and coding. Wi-Fi access throughout the school allows both teachers and students to utilize the web anywhere on campus. Students at Katz Hillel Day School are provided with custom Google accounts with Katz Hillel's domain which allows them to explore Google apps for education and provides them with the necessary tools to maximize learning. The technological learning environments at the Katz campus are created to foster communication and collaboration amongst peers and to help students develop global awareness. Internet safety is a top priority at Katz Hillel Day School. Students understand the importance of internet safety, ethics and proper online etiquette. Along with cutting edge professional development for teachers, parents are invited to attend technology video tutorials and contact the technology department for assistance with their student's online learning.  
The Classroom Experience
Interactive Promethean Boards enable teachers at Katz Hillel Day School to customize engaging lessons by incorporating interactive games and multisensory hands-on activities such as observing/dissecting a virtual frog. 
Classrooms in grades 2-8 have one chromebook for each student. From basic keyboarding lessons to advanced research, these chromebooks allow students the opportunity to practice skills and advance their knowledge. These computers are used for everything from simple homework assignments to semester long projects. 
The iPad is an ideal learning companion which continues to complement daily lessons both inside and outside the classroom by reinforcing skills and concepts that are presented to our students from early childhood through first grade.  In addition, it enables our educators to further differentiate instruction which has proven to enhance the students' capacity to learn.  The iPads are a ubiquitous learning tool, where students discover new information at their fingertips in various subject areas. Elementary students have the opportunity to enhance their understanding of Chumash by listening to audio lessons in online classrooms.  In middle school, the students delve deeper into our comprehensive Toshba program when utilizing the digital curriculum/textbooks on the iPads to learn about Talmud
The Lower School Computer Lab
The ChromeBook lab is a cloud-based learning environment. Students have access to online programs to enhance their knowledge with typing and word processing skills, movie making, presentations, animation, and coding. Throughout the year, the students learn about the many Google Apps for Education (GAFE) which assist them when completing classroom assignments and homework. 
Coding/Robotics
As part of the Computer Science curriculum, students learn basic coding skills such as functions, sequences, loops, and conditionals through interactive coding activities.  Students begin to strengthen their problem solving skills and become more familiar with programming languages. 
Using a range of robots, beginning in pre-K, our students experience and interact with robots. From simple commands to complicated algorithms, students direct robots to complete a variety of tasks. Robots are often used to integrate multiple disciplines in one project. One example is a 4th grade project on body systems. The students work in groups to research (science and english), then draw (art) a map of the body system, then complete the project by programming (coding and robotics) a robot to travel through the body system, stopping along the way to tell important facts.
By the time students are in Middle School, the students use more advanced coding for advanced robots and a robotics club is offered., 
Makerspace
Makerspaces are areas where students come to explore, build, create, and tinker. The KHDS makerspace is more than a room, it's a mindset. The makerspace is a place where students are encouraged and supported to invent and build, to create and to dream. Students are encouraged to explore their own interests, then use the plethora of available tools and materials to create. The KHDS Makerspace is home to a wide range of materials from paper and cardboard to Legos to high-tech robots. Tools such as 3-D printers, laser cutters and circuit boards are available for student use. There are 24 student computers that facilitate coding and designing. 
Virtual Reality Goggles
While a set of 24 Virtual Reality goggles is kept in the Makerspace, these goggles are used throughout the school to enhance and extend learning. There is an online library of resources (films that can be shown via the goggles) and KHDS is building their own library of films which showcase sites throughout Israel. 
Katz Hillel Day School aspires to be at the forefront of technology.  Visual, auditory, and tactile technological tools will continue to assist our students in their journey as 21st Century learners and better prepare them for the future.